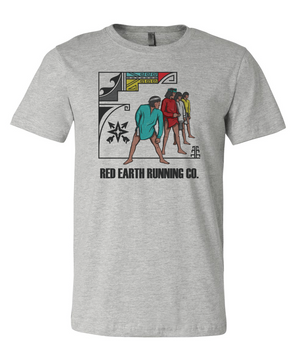 Red Earth Running Co.
Four Runners Tee
Sale price Price $20.00 Regular price $20.00
The Four Runners Tee is a collaboration between Red Earth Running Co. and artist Jay Shelton Jr. (Hopi). The tee design depicts four Hopi men standing in preparation for a run. They are surrounded by the sun, rain clouds, water, and corn. 
This tee is only available in athletic grey. It is a crew neck, has a modern fit, and is available in unisex sizes. More detailed information about sizes can be found at our sizing guide. The fabric is a 50/50 poly-cotton blend. Printed locally.
ABOUT THE ARTIST
Jay Shelton Jr. (Hopi) is the owner and lead artist/graphic designer for Shelton Illustrations. Jay earned a Bachelor's degree in Visual Arts and Design with a focus in Game Arts. He has over a decade of experience as a professsional graphic designer. His family is from the village of Munqapi (Moenkopi) in northern Arizona. Jay is a part of the Tawa (Sun) clan. He aims to continue and improve the traditional methods of art he learned from family while growing up.